Hello friends,
I hope all of you are having a warm and happy holiday season! I write this beside the fire in my hometown of Cortez, Colorado. Outside, the snow has been falling off and on (mostly on) for days. Our family friend describes it as a "marshmallow wonderland."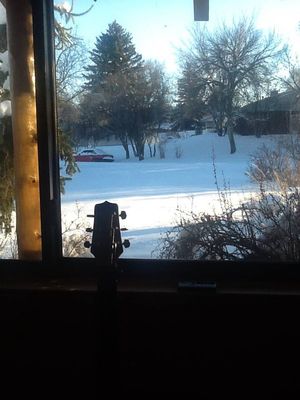 My 2015 was filled with lots of performing, writing, and recording. I composed and arranged my first jazz big band piece, wrote numerous acoustic songs, released a
new electronic EP
as
(io)
,
and laid the groundwork for future projects. Between all my bands and my solo exploits, I have big plans for the new year!
First up,
The Big Payback's
second full-length CD will be released in the spring. Followers of my blog will know that we accomplished much of the recording last fall. We have some more work to do with mixing and touch-ups, but the lion's share of the task is behind us. I am truly excited for this release, and I can't wait for you to hear it! Second,
Driveway Thriftdwellers
are set to record our first album at Dojo Studios in Madison on the weekend of January 8-9. It will contain all original material, including full band versions of my songs "Before Too Long" and "When the Dam Comes Down." I am also recording trombone and glockenspiel on the new
Beefus
CD, entitled
Wrong Number of Heads
. In addition to all that, I intend to record a full-length CD of solo material in the vein of my acoustic EPs. 
2016 is also shaping up to be a busy year performance-wise.
The Big Payback
is kicking off the new year with a performance at the 
Isthmus Wisconsin Funk Fest
. This will take place at the Majestic Theatre on Saturday, January 9. The first
Driveway Thriftdwellers
gig of the year will be at the Ice Cold Beer Fest in Minocqua on January 30. Keep watching my
website
for solo acoustic gigs- I really enjoy them and I plan to book more soon! And of course I will continue to perform with the
Five Points Jazz Collective
every Tuesday night at the Mason Lounge on Park Street.
It is a thrill to spend so much time working on music, and I'm very grateful that I get a chance to do it. Thank you for your support! May your new year be full of music, love, and happiness.
Kyle