Hi there,

I will be participating in Jason Moon's Warrior Songs CD Release Party this Saturday. I'll play a short acoustic set, including "Brothers," the song I wrote for Warrior Songs Vol. 1.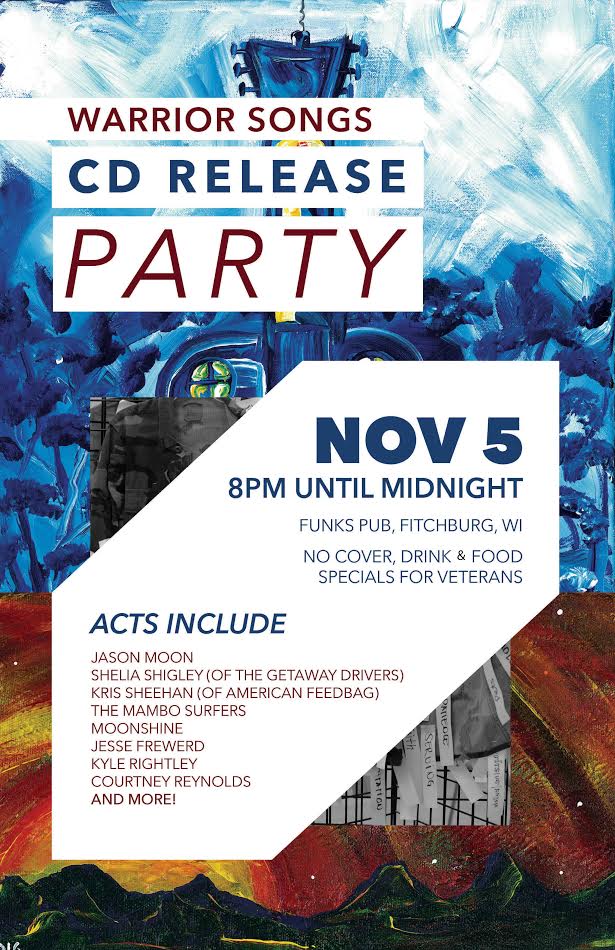 Local Sounds Magazine has written a nice review of the compilation album. Here are some excerpts:

 
---
It took five years for the veterans advocate group and local nonprofit Warrior Songs to get to this point. They spent two full years organizing; setting up their Board, devising their curriculum and resources and obtaining 501(c)(3) status. That itself is a reflection of their intent and commitment. Their mission – to help veterans heal from the wounds of service through music and the creative arts – is a noble one and it lands on both sides of the fence. Veterans have an outlet to help them cope while the general public has access to programming that help them understand veterans' plight. 
The intent and commitment reside largely from the experiences of its President and Founder, Jason Moon who, after a failed suicide attempt and a PTSD diagnosis, turned to music to provide an outlet for his struggle. In 2010 he released his first recording while performing for veterans in particular and the public at large all around the country. The response was so encouraging that his burgeoning realization that his music was helping others to cope and educate themselves led him to undertake his newly-found mission.
 
---

Madison's Kyle Rightley (who is also a member of no less than seven bands including the Civil Engineers, the Driveway Thriftdwellers, Beefus and the Big Payback) contributes "Brothers," a muscular slow burner with tremolo guitars that contribute significantly to the song's dark subject matter. This track is one of the album's strongest with clear and powerful production and featuring Blueheels members drummer Adam Cargin (also Williamson Street Drumworks) and bassist Landon Arkens (also Blast House Studios head engineer).
 
---

You can read the entire review here.