I've got exciting news!
I'm going to be playing my solo music... with a band! Like, a real band. It's a 3-piece group I'm putting together with two friends that I've really enjoyed playing with over the last few years. Eric Shackelford (drums) plays with me every Tuesday night at the Mason Lounge with the Five Points Jazz Collective, and he also plays with local legends Aaron Williams and the Hoodoo. Lucas Koehler (bass) has played with me in both Five Points and The Big Payback, and he's been a fixture of the Madison jazz/funk scene for a while. 
We had our first rehearsal this last weekend, and I'm excited about the possibilities. Both these guys are very capable on their instruments and great listeners to boot- a combination I always look for in musicians! We'll be rooted in the kind of folk/Americana sound from my solo records, but we'll be exploring other musical territories as well. 
Right now, we're called the Kyle Rightley Band. I guess that name is pretty self-explanatory, if not a little dull. I was going to try to think of something better, but time got away from me, and now it's on the poster: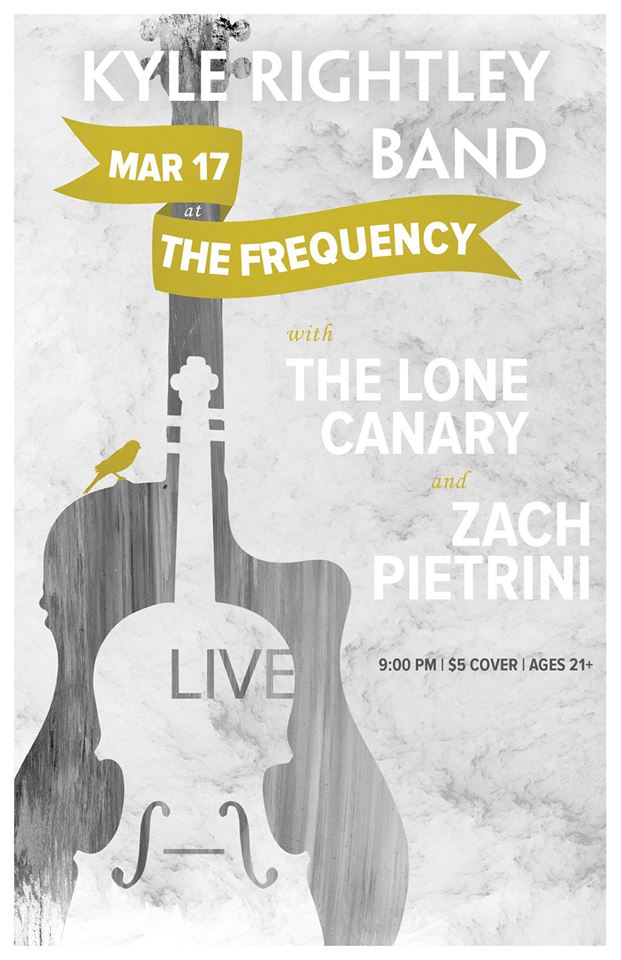 ...which brings me to the gig! The (for now) Kyle Rightley Band will debut on Saturday, March 17 (St. Patrick's Day) at the Frequency. Zach Pietrini put together this bill, and he was nice enough to bring me on board. Thanks, Zach! I've also played with The Lone Canary before, and I look forward to hearing them again.
I hope to see you there!
Kyle