As 2016 draws to a close, I am reminded of how lucky I am to be a part of the Madison music scene. Here's all the local music I was involved in making, bought, or was given this year: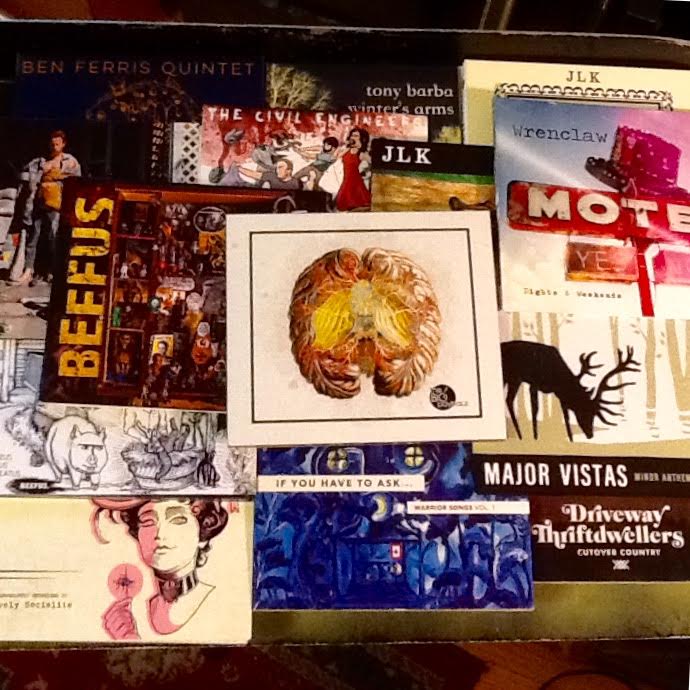 Of the CDs I've bought, a couple that stand out are:
Major Vistas- Minor Anthems.
A really tasteful mix of original tunes from this jazz trio. Their music is groove-driven and accessible, but still sophisticated. Mike Zirkel's mix really brings the playing to life.
Blueheels- Get Lonely.
Excellent release from this veteran Madison rock band. The songs are direct and to the point. Quirky and heartfelt vocals, clever word play, and some great guitar and keyboard tones are held together by a muscular rhythm section. 
Of course, I am also very proud of the CDs I contributed to this year:
The Big Payback-
Animal Brain
Driveway Thriftdwellers-
Cutover Country
Beefus-
Wrong Number of Heads
Beefus-
Jeezus Fetus Repeatus
Warrior Songs-
Vol. 1
Thank you, local musicians and friends, for such a great musical year! See you on the next time around.
Kyle