Hello readers and listeners,
Whoa! It's been a while. I'll jump right into it...
I am currently up to my ears in a new solo album. It's going to be called Making Home. I realized that my last solo acoustic efforts (Raven Steals the Moon and The Bleak, Barbarian Pines) are getting to be three years old! It doesn't seem like that long ago, but the calendar doesn't lie. I didn't really intend to have such a break between releases, but I got pretty busy with other musical projects for a while there. In fact, when I look at it now, I realize that since those solo releases, I have contributed original material to four full-length albums, two EPs, and one compilation CD. Not to make excuses, but I feel like that's a pretty legit reason to put the acoustic solo stuff on the back burner.
But that is changing! Making Home is going to pick up right where the solo EPs left off. Because I blew a lot of my budget on recording albums for various bands last year, I'm doing as much of this one by myself as possible. Like Raven and Pines, this album is being recorded with gear that I own or borrowed. I'm tracking myself and I'm going to attempt to mix it by myself as well. I have 11 songs lined up. I might use all of them, but I also might cut one or two and save them for later.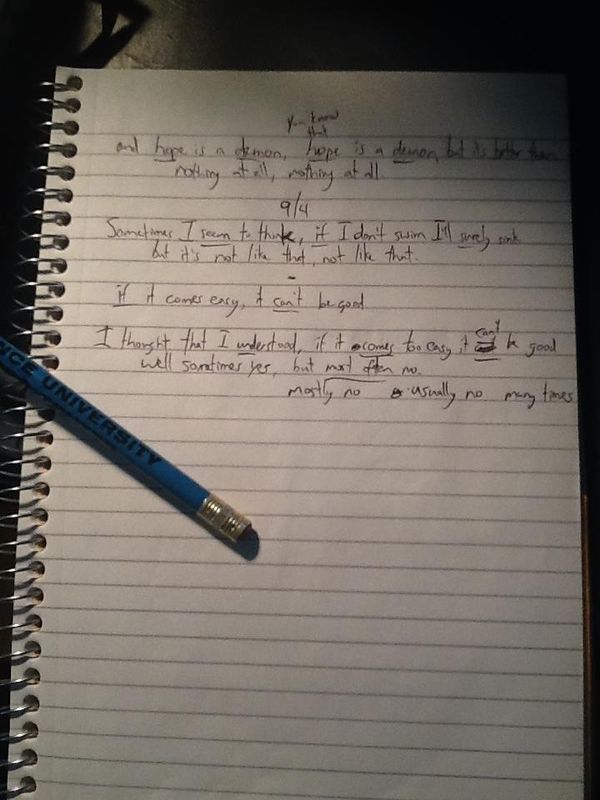 Fiddling with lyrics 
Ok, let's talk timeline. So, I always get really impatient at this stage of the process. I've been sitting on this music for years (in the case of a couple songs), and all I want to do is finish it up and get it out there. But I'm finding that I really need to resist that temptation. I'm at the tail end of the tracking stage and the beginning of the mixing stage. Now is when I actually need to slow down. The more care I can put into every stage of the process, the better the whole thing is going to be. I also find this part of the whole process to be the funnest. So I'm going to try to allow myself to actually have fun and let this music come together in a natural way.
I had a thought this morning. If I give myself the rest of September to finish up the creative work for the album, I'll be in good shape. That means getting the music completely finished, as well as working on artwork, layout, revamping the website, and getting my whole social media game up-to-date and snappy. I can spend the beginning of October getting physical CDs made, jumping through all the hoops to get my music into all the online places it needs to be these days, and maybe making a little noise to try to get some press. So I'm looking at a late October or early November release. That's not too close to the holidays, and it still counts as a 2017 release, which is important to me.
I will say that the overall quality is a step up from the 2014 EPs in every way. It might not be George Martin in Abbey Road, but I think it's pretty good for what it is. I'm getting better and better at every step of the process- from the songwriting to the recording to the post-production. If you liked my previous solo efforts, I think you're going to like Making Home!
Over and out,
Kyle